Home (amp tone and effects placement)
---
SWR - Interstellar Overdrive
EL84 power-tube "preamp"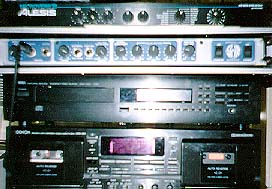 - from http://jungle.ffwd.cx/clipper/studio.htm
SWR Sound Corporation - Interstellar Overdrive. Rackmount all-tube preamp/signal processor "for bass distortion". [yeah, like the Bassman is a bass amp]. 3-band EQ. Clean/distorted blend ctrl, w/ in/out of phase sw. FX loop. DI. 5-watt amp with 2 EL84s. Balanced and unbalanced lines out. Listed in Guitar & Bass Buyer's Guide.
$749 list. $540 street. $315 used.
Dealer page at Discount Music Center
When I phoned SWR to send product information, they sent the entire user manual, which is very interesting reading. I might post excerpts and upload the manual for SWR. The unit looks like it would make a great guitar processor as is, but it is slanted toward bass guitar. Like all guitar gear, this one does not exactly fit my vision of what is actually needed and relevant for headphone-level cranked-tube-amp tone; *all* today's gear needs to be redesigned for a better fit for users' actual needs.
Guitar Shop rig diagram for bassist Jeff Ament of Pearl Jam, page 27, Feb 1995, includes the SWR Interstellar Overdrive.
official Interstellar Overdrive page - excerpts:
A bass distortion unit that faithfully reproduces low end. Also capable of thick, clean tube sounds. May be used as a practice amp, preamp or effects unit.
Features:
<![if !supportLists]>· <![endif]>Dual independent input jacks compatible for both active and passive instruments
<![if !supportLists]>· <![endif]>All tube preamp gain stages
<![if !supportLists]>· <![endif]>Aural Enhancer control
<![if !supportLists]>· <![endif]>Active bass, midrange and treble controls
<![if !supportLists]>· <![endif]>Drive function with external drive pedal ability
<![if !supportLists]>· <![endif]>Blend control for mixing clean and overdriven signals
<![if !supportLists]>· <![endif]>Effects loop
<![if !supportLists]>· <![endif]>Tuner send
<![if !supportLists]>· <![endif]>Stereo headphone amp
<![if !supportLists]>· <![endif]>Rack mountable
<![if !supportLists]>· <![endif]>Rack Handles
<![if !supportLists]>· <![endif]>Phase Switch
<![if !supportLists]>· <![endif]>Standby Switch
<![if !supportLists]>· <![endif]>On/Off Switch
<![if !supportLists]>· <![endif]>Balanced XLR record out with ground lift, pad
<![if !supportLists]>· <![endif]>and mute function
<![if !supportLists]>· <![endif]>Unbalanced line out (pre master)
<![if !supportLists]>· <![endif]>Balanced direct XLR out with pad
<![if !supportLists]>· <![endif]>Speaker jack (4 watts)
<![if !supportLists]>· <![endif]>Tuner send
<![if !supportLists]>· <![endif]>(1) 12AX7A Preamp Tube
<![if !supportLists]>· <![endif]>(2) EL84
A Jensen Transformer is offered as a modification to the Interstellar Overdrive, for the sound of a passively balanced, transformer-coupled D.I.
Interstellar Overdrive Volume Pedal: $85.00 - controls the Drive setting.
(818) 898-3355
The official product page says it's a preamp for bass guitars. On the surface, it isn't clear that this unit is relevant to cranked-tube-amp guitar tone. -mh
Jason Grossman wrote to me:
>SWR hasn't worked out how to market it! But guitarists do use it, despite the marketing.
>It's very relevant to your ideas and web site. The main circuit consists of a tube (2 times EL84) power amp which feeds into a pre-amp (12AX7 or similar). There are balanced and unbalanced outs before and after the power amp. There are lots of ways of using it, but probably the best is to plug an unmiked speaker into the power amp, and then either record with the DI after the pre-amp or plug the pre-amp output into a separate power amp with speaker or combo and mike that. Anyway, the main point is that the power amp comes before the pre-amp, but it's a real power amp - it can drive a speaker, be cranked, etc.
>If you like I can send you a photocopy of the manual and maybe also the complete circuit diagram (which I've mislaid, but let me know if you want it and I should be able to get another copy).
I will consider asking you for photocopies. Power amp before preamp sounds interesting. I assume there is some sort of at least minor preamp before the power amp, as well, perhaps a linear solid-state op-amp.
---
User comments about the Interstellar Overdrive, at Harmony Central - excerpts related to Amp Tone:
The tone controls are fairly basic (aural enhancer, bass, mid, treble), but that shouldn't matter given the wonderful sounds the tubes give you. Also, the fact that the unit is footswitchable means that you always have at least two sounds to play with. If you buy the overdrive volume pedal the options increase again, as you cna vary the amount of overdrive you get. The overdrive itself is great - you can have just a hint showing through or go for full distortion with wicked harmonic overtones. The unit has a very clear clean tone, lots of highs and very well articulated, warm lows. A superb preamp that offers pure tube tone, plus the classic clean SWR "hi-fi" sound in a recording-ready 1u rackspace. I wish it had a sweepable midrange tone control and maybe a gain control knob. The layout is simple and very attractive (knobs!). There is a basic treble, mid and bass eq, an overdrive knob and a blend knob. The blend control is useful for getting a more articulate distortion. There is also an out of phase that I really like for thinner guitar like sounds. You can also have total control of your distortion with a volume pedal, and an A|B switch to go to a clean sound. The overdrive is wonderful for fattening up you sound at a low distortion setting. The distortion gets very loose at extreme settings, but can be tightened when put out of phase. I mainly use it for the pristine clean sound. It is crisp and very transparent. The EQ section is very limited in range. 3 tubes, easily reached. It has an amazing number of useful gadgets, such as a pre EQ DI, a tuner out, a post eq line out, and an effects loop. It has a miniturized tube power amp section that can produce enough power to drive a cabinet, though that power is usually attenuated, causing the preamp to get hot. Even with all this, I wished it had a parametric EQ and was in stereo. I have tried distortion pedals, but they all sounded too fizzy for me-this unit sounds much fatter and warmer, but is also flabbier. Even though it was made for a bass guitar, I like to run my guitars through it, because it is so versatile from clean to blues to metal and beyond. I think all guitar distortion units should include a clean blend, because it can keep definition to chords at any distortion setting. For bass I really appreciate the Ampeg like dirty tones and SWR clean tones. Very low noise. Relatively open and transparent sound There is an excellent "sweet spot" for a warm, but not yet distorted tone, similar to an SVT head that been played outside all day long in the summer. Unfortunately that sweet spot wanders around during the course of a gig or even a set.
It runs hot, but in a well-ventilated rack case this doesn't seem to be a problem. It does run extremely hot.
---
DejaNews query: "Interstellar Overdrive"
Messages 1-89 of exactly 89 matches for search "Interstellar Overdrive":
<![if !supportEmptyParas]> <![endif]>
        

Date

   

Scr

        

Subject

                     

Newsgroup

           

Author
<![if !supportEmptyParas]> <![endif]>
   

1. 98/10/24 044 Re: Low-watt power-tube devi alt.guitar.amps

      

 

Puentstein

     
   

2. 98/07/07 044 WTB SWR Interstellar OverDri alt.guitar.bass

      

 

Sandro Scoccia 
   

3. 98/07/07 044 Re: WTB SWR Interstellar Ove alt.guitar.bass

      

 

garybig

        
   

4. 98/11/18 042 Re: David Gilmour Telecaster alt.guitar

           

 

dtony

          
   

5. 98/11/18 042 Re: David Gilmour Teleca#1/2 alt.guitar

           

 

dtony

          
   

6. 98/11/18 042 Re: David Gilmour Teleca#1/2 alt.guitar

           

 

Terry H. Parker
   

7. 98/11/09 042 Re: A Roll Call: What Are Yo rec.music.makers.bass Zekmoe

         
   

8. 98/09/19 042 Interstellar Overdrive

      

 

alt.guitar.bass

      

 

Pat1837

        
   

9. 98/08/07 042 SWR Interstellar Overdrive

  

 

alt.guitar.bass

      

 

DJ Wessy Wes

   
  

10. 98/08/06 042 SWR Interstellar Overdrive q rec.music.makers.bass Eric Thier

     
  

11. 98/07/07 042 WTB SWR Interstellar OD

     

 

rec.music.makers.bass 

Sandro Scoccia 
  

12. 98/07/07 042 Re: WTB SWR Interstellar OD 

 

rec.music.makers.bass garybig

        
  

13. 98/11/17 040 Re: David Gilmour Telecaster alt.guitar

           

 

dtony

          
  

14. 98/11/17 040 Re: David Gilmour Telecaster alt.guitar

           

 

Greg

           
  

15. 98/11/17 040 Re: David Gilmour Telecaster alt.guitar

           

 

Terry H. Parker
  

16. 98/11/16 040 Re: Who is the God of the Tu rec.music.makers.guit Michael

      
  

17. 98/11/08 040 Re: Make way for power-tube 

 

alt.guitar.amps

      

 

Tremolux

       
  

18. 98/08/10 040 Re: SWR Interstellar Overdri rec.music.makers.bass Bill Bolton

    
  

19. 98/11/11 038 Re: Make way for power-tube 

 

alt.guitar.amps

      

 

Michael

      
  

20. 98/11/10 038 Re: Make way for power-tube 

 

alt.guitar.amps

      

 

Michael

      
  

21. 98/11/08 038 Make way for power-tube #1/2 alt.guitar.effects

   

 

Michael

      
  

22. 98/11/08 038 New PlusEBow does harmonics 

 

alt.guitar.effects

   

 

Michael

      
  

23. 98/11/07 038 Re: Make way for power-t#1/2 alt.guitar.effects

   

 

Venger's Orchid
  

24. 98/10/23 038 Low-watt power-tube devices? alt.music.4-track

    

 

Michael

      
  

25. 98/10/03 038 Re: Bass preamp/Di recommend rec.audio.pro

        

 

Rick Novak

     
  

26. 98/08/11 038 Re: SWR Interstellar Overdri rec.music.makers.bass plyman

         
  

27. 98/08/08 038 Re: SWR Interstellar Overdri alt.guitar.bass

      

 

Bill Bolton

    
  

28. 98/11/02 036 Re: Amp emulators, speaker s alt.music.4-track

    

 

Michael

      
  

29. 98/10/25 036 Re: Low-watt power-tube devi alt.music.4-track

    

 

Michael

      
  

30. 98/08/07 036 Re: Alternatives to SansAmp 

 

rec.audio.pro

        

 

Rick Novak

     
  

31. 98/05/31 036 Re: Distortion for bass

     

 

rec.music.makers.bass Bill Bolton

    
  

32. 98/03/12 036 Re: SWR Interstellar Overdri alt.guitar.bass

      

 

Ben Mueller

    
  

33. 98/01/25 036 Re: !*** Best solo eveR ***! alt.guitar

           

 

MaDcAP CaT

     
  

34. 97/12/30 036 Re: SWR Interstellar Overdri rec.music.makers.bass Rocco Criazzo

  
  

35. 97/12/30 036 Re: SWR Interstellar Overdri rec.music.makers.bass Bill Bolton

    
  

36. 97/12/29 036 SWR Interstellar Overdrive ? rec.music.makers.bass Zekmoe

         
  

37. 98/08/06 035 Re: Alternatives to SansAmp 

 

rec.audio.pro

        

 

Bill Gribble

   
  

38. 98/10/27 034 Re: Amp emulators, speak#1/3 alt.music.4-track

    

 

Michael

      
  

39. 98/10/27 034 Re: Amp emulators, speak#1/3 alt.guitar

           

 

Michael

      
  

40. 98/10/27 034 Amp emulators, speaker sim, 

 

rec.audio.pro

        

 

Michael

      
  

41. 98/10/03 034 Re: Bass preamp/Di recommend rec.audio.pro

        

 

plyman

         
  

42. 98/08/06 034 Re: Alternatives to SansAmp 

 

rec.audio.pro

        

 

Rick Auricchio 
  

43. 98/06/17 034 Alembic F1-X phasing; Ampeg 

 

rec.music.makers.bass Pat Lyman

      
  

44. 98/03/01 034 Re: The First Song you learn alt.guitar

           

 

Astoria

        
  

45. 98/01/03 034 SWR Overdrive (all tube bass rec.music.makers.bass aemedia

        
  

46. 97/02/07 034 SWR Interstellar Overdrive

  

 

alt.guitar.bass

      

 

Mika Hanski

    
  

47. 98/10/27 032 Re: Amp emulators, speak#1/2 rec.music.makers.guit Michael

      
  

48. 98/10/27 032 Re: Amp emulators, speak#1/3 alt.music.4-track

    

 

Chris Gieseke

  
  

49. 98/07/22 032 Re: Are high-powered tube am alt.guitar.amps

      

 

Stacey Lee

     
  

50. 98/07/16 032 Re: Are high-powered tube am alt.guitar.amps

      

 

Brian Rost

     
  

51. 98/03/28 032 Re: More tube amp questions 

 

rec.music.makers.bass Pat Lyman

      
  

52. 98/01/27 032 Re: !*** Best solo eveR ***! alt.guitar

           

 

araven97

       
  

53. 97/12/25 032 Re: Sixties Experimental Cla alt.guitar

           

 

MaDcAP CaT

     
  

54. 97/09/05 032 Re: Do you Bi-Amp?

          

 

rec.music.makers.bass Bill Bolton

    
  

55. 97/05/16 032 Re: Rack FX Units for Bass? 

 

alt.bass

             

 

Ben Mueller

    
  

56. 97/02/11 032 Re: SWR Interstellar Overdri alt.guitar.bass

    

  

 

Bill Bolton

    
  

57. 97/02/08 032 Re: SWR Interstellar Overdri alt.guitar.bass

      

 

Andre Bolen

    
  

58. 95/12/09 032 Re: Bass Distortion Box

     

 

rec.music.makers.bass Carl Anderson

  
  

59. 97/05/16 031 Re: Rack FX Units for Bass? 

 

alt.bass

             

 

Bill Bolton

    
  

60. 98/04/06 030 Re: Ampeg SVP-Pro question(h alt.guitar.bass

      

 

Pat Lyman

      
  

61. 97/11/26 030 Need some Advice on a Stage 

 

rec.music.makers.bass 

Lou Klubenspies
  

62. 97/11/26 030 Re: Need some Advice on a St rec.music.makers.bass Bill Bolton

    
  

63. 97/11/12 030 Re: Ampeg concerns

      

    

 

alt.bass

             

 

Pat Lyman

      
  

64. 97/05/23 030 Re: Rack FX Units for Bass? 

 

alt.bass

             

 

Andre Bolen

    
  

65. 97/05/19 030 Re: Rack FX Units for Bass? 

 

alt.bass

             

 

Ben Mueller

    
  

66. 97/05/18 030 Re: Rack FX Units for Bass? 

 

alt.bass

             

 

Bill Bolton

    
  

67. 97/05/16 030 Re: Rack FX Units for Bass? 

 

alt.bass

           

  

 

Ben Mueller

    
  

68. 96/09/16 030 FS: SWR tube Preamp: Interst rec.music.makers.bass Eric Matsuno

   
  

69. 96/05/01 030 SWR Preamp for sale

         

 

alt.guitar.bass

      

 

John Q. Public 
  

70. 95/12/09 030 Re: Bass Distortion Box

     

 

rec.music.makers.bass Eric Lamb

      
  

71. 95/05/28 030 WTB SWR Interstellar CHEAP!! rec.music.makers.bass b9

             
  

72. 97/06/18 029 Re: Opinions (Re: Best effec alt.guitar.bass

      

 

Matt Howe

      
  

73. 96/04/08 029 Re: blown speakers

          

 

rec.music.makers.bass FERNANDO

  

JEREM
  

74. 98/02/16 028 Re: Carvin Bass Amp Question rec.music.makers.bass Pat Lyman

      
  

75. 97/05/29 028 Re: Rack FX Units for Bass? 

 

alt.bass

             

 

Roger

        

  
  

76. 96/12/17 028 Re: How To Get Good Bass Dis rec.music.makers.bass Jeanpr 234

     
  

77. 96/04/06 028 Re: Starving bassist seeks c rec.music.makers.bass JBass914

       
  

78. 96/02/21 028 preamp/poweramp question

    

 

rec.music.makers.bass Power Droid

    
  

79. 95/09/26 028 Wanna buy an S.W.R. Interste rec.music.makers.bass 

the Bassmaster 
  

80. 95/05/24 028 Bass distortion units

       

 

rec.music.makers.bass ejlamb

         
  

81. 96/11/04 027 WTB: Bass preamp and effects rec.music.makers.mark 

David M. Sweene
  

82. 96/09/16 027 FS:GK RB800: $350

           

 

rec.music.makers.bass Eric Matsuno

   
  

83. 95/10/03 027 Re: WTD: Opinions on SWR Ste rec.music.makers.bass Sam Bennett

    
  

84. 95/05/25 027 Re: Bass distortion units

   

 

rec.music.makers.bass David Grant

    
  

85. 96/12/20 026 Re: Pink Floyd are better th alt.music.pink-floyd 

 

John Stewart

   
  

86. 96/12/20 026 Re: Pink Floyd are better th alt.music.pink-floyd 

 

Donal Ryan

   

  
  

87. 95/05/25 026 Re: Bass distortion units

   

 

rec.music.makers.bass 

Carl E. Anderso
  

88. 95/05/25 026 Re: Bass distortion units

   

 

rec.music.makers.bass Scott Evans

    
  

89. 95/08/18 022 Re: the best bass preamp for rec.music.makers.bass mgod

           
---
Amptone.com ultra gear-search page
---
Home (amp tone and effects placement)
<![if !supportEmptyParas]> <![endif]>