Home (amp tone and effects placement)
<![if !supportEmptyParas]> <![endif]>
---
Fender - Cyber-Twin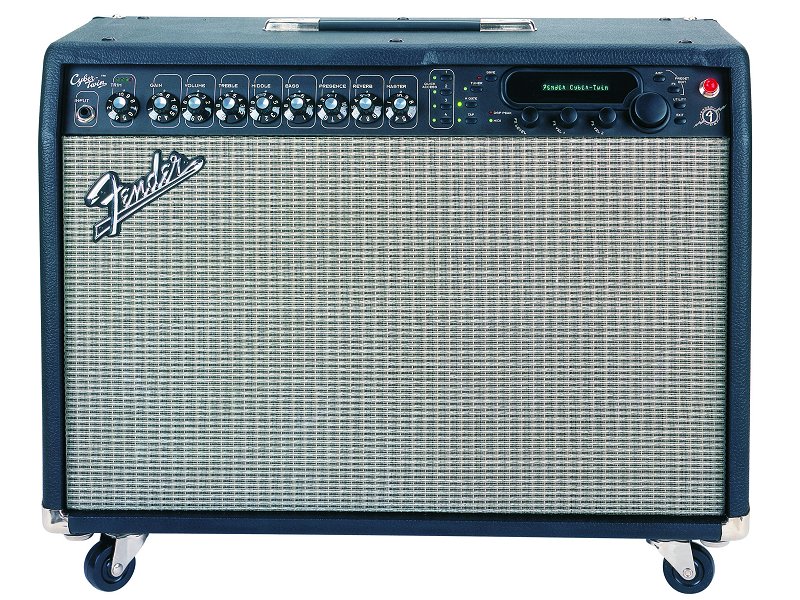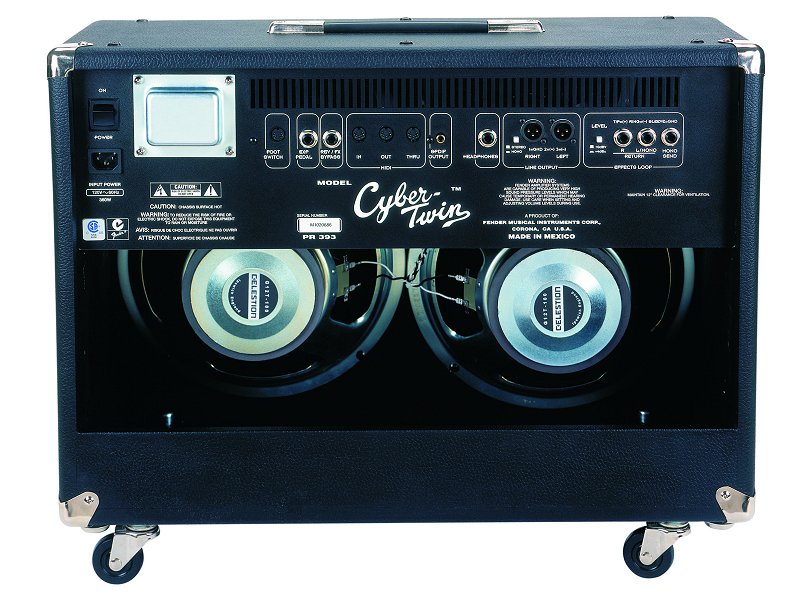 Guitar World, March 2001, pages 6 and 7.
"Innovate... Don't Emulate(TM)"
In Stores Now
Photo shows part of an amp. Black Tolex. Conventional knobs on left -0 bass, presence, reverb, master. Pushbuttons include: Quick Access 1, 2, 3, 4; Save, Tuner, N Gate, Tap; Preset Edit: (Amp, FX), Utility, Exit. Logo: Fender DSP. Digital knobs: Level, Val 1, Val2. Large knob. Green LED matrix (each char is 7x5 dots) display.
http://namm.harmony-central.com/WNAMM01/Content/Fender/PR/Cyber-Twin.html
http://www.fender.com/cyber -- official product page
Based on "in-depth analysis of classic, vintage amplifiers".
<![if !supportEmptyParas]> <![endif]>
205 Amplifier Design Presets:
85 Custom Shop (including FX; permanent)
35 Your Amp Collection (permanent)
85 Player's Lounge (rewritable)
• 2 Vacuum Groove Tubes (12AX7WA)
• 130 Watts of Stereo Output, (65 watts per channel)
• 2 Celestion Speakers (G12-100)
• Onboard Guitar Tuner
Effects:
• 28 individual effects selections to choose from (each with 4 or 5 adjustable parameters)
• 11 Reverb types (each with 4 adjustable parameters)
• 4 Tone Stacks (each with 2 Location parameters, before or after the Distortion Circuitry)
• 3 Noise Gate level settings (with 1 adjustable depth parameter)
• 4 Timbre types (for room acoustics or tone boosts)
• 4 Line/Speaker Polarity selections (all possible combinations)
• 8 Bypass Reverb/Effects selections (all possible combinations)
• 4 Quick Access Keys provide assignment and recall of favorite Amp Design Presets
• 4 Button Footswitch
• 1 Expression Pedal Jack
Display & Control Panel:
• 40 Character, 2-line display presents menu options, prompts and general information
• 1 Dynamic Data Wheel
• 8 Motorized Knobs Drive Circuitry:
• 16 selections: 12 Tube types 4 Solid State types MIDI
• 23 Continuous Controllers for auto-control by external MIDI equipment (sequencer/computer)
• 1 Assignable Continuous Controller for remote control of a dynamic parameter
• 4 System Exclusive functions for transferring Amp Design Presets and system updates
Outputs:
• 1 Stereo Digital Line Output, RCA SPDIF jack for connection to digital sound equipment
• 2 Stereo XLR Line Output, impedance balanced jacks, with 2 mono/stereo settings
• 3 Effects Loop jacks, mono out, mono or stereo in, with 2 switchable pre-amp levels
http://www.fenderforum.com/fdp.html?message_area_number=15 - Discussion at Fender discussion site
---
Research links
fender "cyber-twin"
+"fender" +"cyber-twin"
Click these custom links to find the latest information and discussion about this product.
Article at Harmony Central - pending
NAMM announcement at Harmony Central
user reviews for this manufacturer at Harmony Central
product news for this manufacturer at Harmony Central
search newsgroup postings at Deja.com
---
Amptone.com ultra gear-search page
---
Home (amp tone and effects placement)
<![if !supportEmptyParas]> <![endif]>